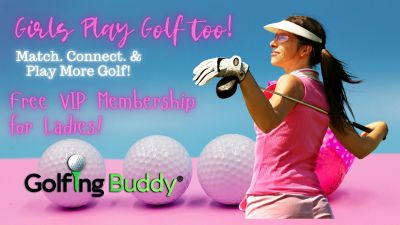 ? Free VIP Membership for Ladies! ?
Sign Up Today and Get a FREE VIP Membership!
Get all the perks for FREE!
Share this post to help other Women Get a FREE VIP Membership to Play More Golf!
➡️ Sign up today for your opportunity to get FREE Golf!
In an effort to grow our FREE Membership we are giving away FREE VIP Memberships to all the ladies!
How's that for EMPOWERMENT!
We want to help more women play more golf.
➡️. Sign Up Today!
Find Golfing Buddies so you can play more Golf!
Golfing Buddy - Join. Match. Connect. & Play More Golf! Join our growing community of Golfers.
Find Your Golfing Buddy Today!
⬇️ ⬇️ ⬇️ ⬇️